When traditional Elevated Work Platforms (EWP) aren't feasible, Brisbane scaffold hire emerges as the perfect solution, offering unparalleled adaptability for any scenario. Customisable to fit every application, whether it involves stairwells, machinery, tight spaces, poolside areas, or expansive construction industry, scaffolding solutions effortlessly caters to your specific requirements. Choosing scaffolding hire is the safest alternative to ladders or trestles, providing a secure working environment. By optimising your workforce and offering a greater number of working platform levels and sizes, scaffolding solutions empowers you to elevate your productivity.
We provide accurate measurement and quoting, allowing you to budget better.
You can rely on hassle-free delivery to your job site or workplace.
Our licensed team will install, sign off, and hand over the scaffold that is safe to use.
Once the work is completed, our team will take it away from the site.
Types of Scaffold Hire in Brisbane
One-Stop Service Scaffolding
Gold Coast, Ipswich and Brisbane Scaffold Hire
With our expanded scaffold division, we offer a comprehensive range of scaffolding solutions in Brisbane tailored to your on-site requirements. Whether you're in need of mobile, system, or modular scaffolds, we have you fully covered. Our comprehensive services include precise measurement and quoting, hassle-free delivery and installation, safety verification by licensed professionals, and seamless gear removal upon project completion. Trust All Access Hire to deliver a seamless and efficient scaffolding experience from start to finish for Brisbane Scaffold Hire. Contact our experienced team today for a free quote.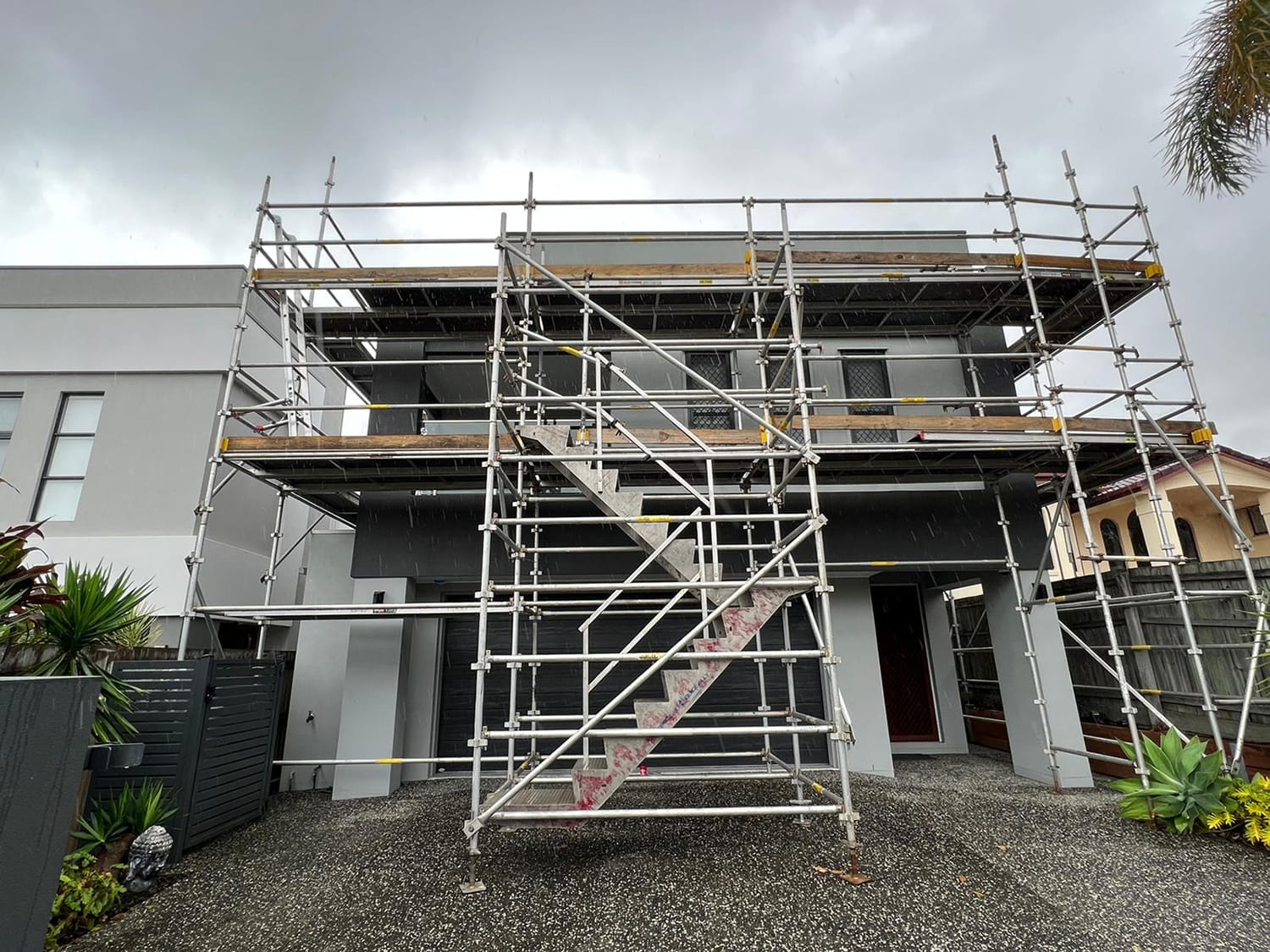 Use All Access Hire for Scaffolding Hire Today
If you are looking Brisbane scaffold hire, get in touch with our team today and we will come to the site to give you an accurate quote. Call us on 1300 334 507 or send us an online enquiry and we will get in touch with you promptly to discuss your requirements.
Frequently Asked Questions
How tall of scaffolding do I need?

The height of scaffolding you need depends on the specific task you're undertaking. A helpful guideline is to add approximately 1.8 meters to your working platform, factoring in your reach and any equipment being used. For indoor projects, remember to consider the ceiling height as well. Rest assured, our friendly team specialises in scaffolding solutions, and we'll provide precise measurements and quotes to assist you in budgeting effectively for your next job.
How do you set up a mobile scaffold?

All Access Hire provides scaffolding solutions with a one-stop service. To set up a mobile scaffold, we have to choose a flat and stable surface. Our scaffolders will inspect all the components for damage or missing parts. They will assemble the base frame, attach cross braces for stability, and raise the platform to the desired height. All Access Hire scaffolders will install guardrails for safety, secure the wheels to prevent movement, and conduct stability check. Once is installed, ensure that your workers are trained and using appropriate safety gear, and following safety regulations. You can hire scaffolding in Brisbane and surrounding areas.
What height am I legally allowed to build Scaffolding?

Without a scaffold ticket, you are allowed to build your working platform to a height where you can fall no more than 4 meters. Once over this height, talk to our friendly team to have one of our lincensed scaffolder to take care of the setup and dismantle.
What type of scaffold should I use?

The choice of hire scaffolding type depends on the specific requirements of your job. Factors to consider include the work environment (indoor or outdoor), height requirements, platform size, weight capacity, ease of assembly, and mobility. To ensure you select the most suitable scaffold, consult our experienced team who can provide personalised scaffolding advice based on your project's needs.