Also referred to as cherry pickers, our boom lift hire in Brisbane offers the perfect solution when tasks require access from multiple directions. Widely employed for their ability to provide access both upwards and outwards, boom lifts come in an array of sizes, with a full range from compact models to towering giants, reaching heights of up to 45 meters. Our boom lifts are meticulously designed to conquer both vertical and horizontal reach simultaneously. We offer equipment hire services in Brisbane and throughout South East QLD. Get in touch with All Access Hire today!
Types of Boom Lifts in Brisbane
Professional Cherry Picker Hire in Brisbane and Surrounding Areas
All Access Hire has been offering access equipment hire for more than 8 years ago, specialising in Elevated Work Platforms. We have an extensive range of boom lifts and cherry picker hire in Brisbane. Among our equipment options, you can find booms with rough terrain capabilities and indoor-type booms. We exclusively utilise best-in-class equipment from quality brands like Genie, Haulotte, Nifty Lift, Skyjack, Sinoboom, and LGMG. Contact our team of experts today, and we will assist you in completing your job efficiently!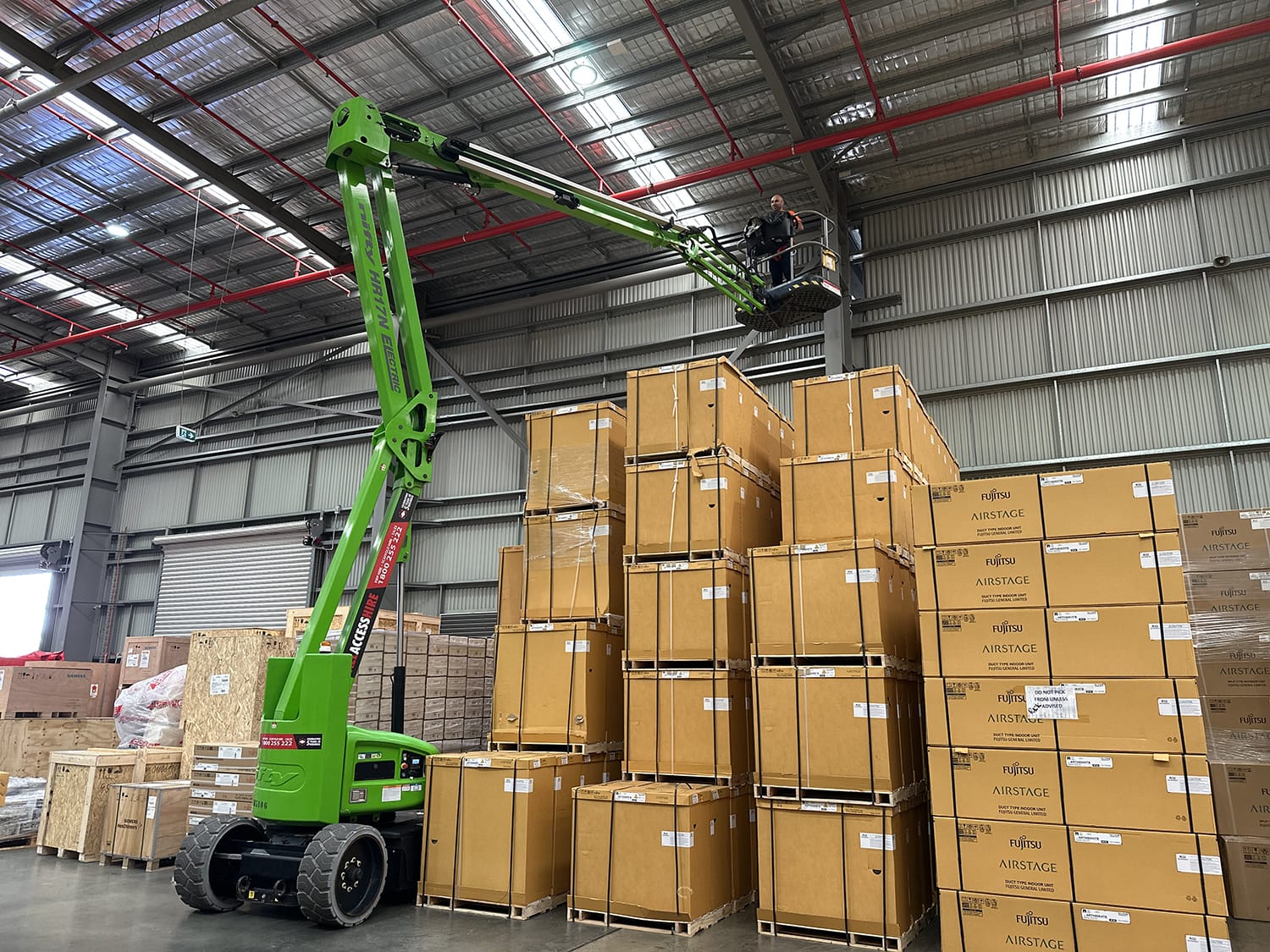 Frequently Asked Questions
How much is it to hire a cherry picker in Brisbane, Ipswich or Gold Coast?

All Access Hire provides an extensive selection of access equipment for Elevated Work Platforms. We collaborate with market-leading brands. The cost of hiring a cherry picker depends mainly on the size and whether you choose to pick up the equipment or have it delivered. Boom lift hire services are available in Brisbane, allowing you to hire Brisbane or any other location within the South East QLD region, including Gold Coast, Ipswich, and Sunshine Coast.
What is a telescopic boom lift?

A telescopic boom lift is a versatile aerial work platform designed for accessing elevated areas. With an extendable straight arm or boom, it allows workers to reach significant heights and horizontal distances, making it ideal for tasks like maintenance, construction, and repairs. Mounted on mobile chassis, these lifts offer stability even when fully extended, making them suitable for both indoor and outdoor applications.
Can anyone use a boom lift?

It depends! Boom lift hire up to 11 meters do not require a high risk license. However, in general, boom lift hire from more than 11 meters height requires proper training and qualifications due to safety concerns and technical knowledge of the equipment. Cherry pickers are used to access elevated areas for tasks such as maintenance, construction, and repairs, so operating a boom lift without the necessary training and understanding of protocols can pose significant risks. If you don't have a high risk ticket, you can either hire a different boom lift up to 11 meters or hire a scissor lift. When hiring scissor lifts, you don't require a High Risk licence.
How do I choose a boom lift?

Choosing the right boom lift involves different factors such as the work environment (if indoor or outdoor), required height and reach, type of boom (articulated/telescopic), boom length, platform size and capacity, mobility needs, terrain conditions, power source, indoor space restrictions, safety features, and operator training. To choose the correct boom lift hire, contact our team to get some guidance.